Saudi-Arabia

Land i Asia
Kongeriket Saudi-Arabia, vanligvis omtalt som Saudi-Arabia, er et land med geografisk beliggenhet i Midtøsten, og det største landet på den arabiske halvøy. > LOGG INN FOR Å SE LENKER <,
[TRYKK HER FOR Å BLI MEDLEM AV MILFORUM]
Saudi-Arabia er det landet i verden som eksporterer mest olje, og denne eksporten smører den saudiske økonomien. Olje står for over 90 % av landets eksportinntekter og nesten 75 % av de statlige inntektene. Dette danner grunnlaget for en velferdsstat, som regjeringen har hatt problemer med å opprettholde i perioder med lav oljepris. Menneskerettighetsorganisasjoner, som Amnesty International og Human Rights Watch, har gjentatte ganger uttrykt bekymringer angående menneskerettigheter i Saudi-Arabia, bekymringer som har blitt avfeid av den saudiske regjeringen. Sharialover praktiseres også i Saudi-Arabia.
Link: > LOGG INN FOR Å SE LENKER <,
[TRYKK HER FOR Å BLI MEDLEM AV MILFORUM]
CIA World Factbook skriver:
Saudi Arabia is the birthplace of Islam and home to Islam's two holiest shrines in Mecca and Medina. The king's official title is the Custodian of the Two Holy Mosques. The modern Saudi state was founded in 1932 by ABD AL-AZIZ bin Abd al-Rahman Al SAUD (Ibn Saud) after a 30-year campaign to unify most of the Arabian Peninsula. One of his male descendants rules the country today, as required by the country's 1992 Basic Law. King SALMAN bin Abd al-Aziz ascended to the throne in 2015 and placed the first next-generation prince, MUHAMMAD BIN NAYIF bin Abd al-Aziz, in the line of succession as Crown Prince. Following Iraq's invasion of Kuwait in 1990, Saudi Arabia accepted the Kuwaiti royal family and 400,000 refugees while allowing Western and Arab troops to deploy on its soil for the liberation of Kuwait the following year. The continuing presence of foreign troops on Saudi soil after the liberation of Kuwait became a source of tension between the royal family and the public until all operational US troops left the country in 2003. Major terrorist attacks in May and November 2003 spurred a strong on-going campaign against domestic terrorism and extremism. King ABDALLAH from 2005 to 2015 worked to incrementally modernize the Kingdom - driven by personal ideology and political pragmatism - through a series of social and economic initiatives, including expanding employment and social opportunities for women, attracting foreign investment, increasing the role of the private sector in the economy, and discouraging businesses from hiring foreign workers. The Arab Spring inspired protests - increasing in number since 2011 but usually small in size - over primarily domestic issues among Saudi Arabia's majority Sunni population. Riyadh has taken a cautious but firm approach by arresting some protesters but releasing most of them quickly, and by using its state-sponsored clerics to counter political and Islamist activism. In addition, Saudi Arabia has seen protests among the Shia populace in the Eastern Province, who have protested primarily against the detention of political prisoners, endemic discrimination, and Bahraini and Saudi Government actions in Bahrain. Protests are met by a strong police presence, with some arrests, but not the level of bloodshed seen in protests elsewhere in the region. In response to the unrest, King ABDALLAH in February and March 2011 announced a series of benefits to Saudi citizens including funds to build affordable housing, salary increases for government workers, and unemployment entitlements. To promote increased political participation, the government held elections nationwide in September 2011 for half the members of 285 municipal councils - a body that holds little influence in the Saudi Government. Also in September, King ABDALLAH announced that women will be allowed to run for and vote in future municipal elections - first held in 2005 - and serve as full members of the advisory Consultative Council. The country remains a leading producer of oil and natural gas and holds about 16% of the world's proven oil reserves. The government continues to pursue economic reform and diversification, particularly since Saudi Arabia's accession to the WTO in 2005, and promotes foreign investment in the kingdom. A burgeoning population, aquifer depletion, and an economy largely dependent on petroleum output and prices are ongoing governmental concerns.
---
Admin kommentar: Denne artikkelen er publisert av (med utspring fra > LOGG INN FOR Å SE LENKER <,
[TRYKK HER FOR Å BLI MEDLEM AV MILFORUM]
boken, som du kan kjøpe på Bokkilden for kr 109) anerkjente > LOGG INN FOR Å SE LENKER <,
[TRYKK HER FOR Å BLI MEDLEM AV MILFORUM]
beskriver hva jeg mener bør få større lys og spalteplass i nyhetsdekningene: #
pipelinemanagement
- Nemlig kampen om ressursene og hva det egentlig handler om for stormaktene.
Oil Conflict
Conflict over the control of valuable oil supplies has been a persistent feature of international affairs since the beginning of the 20 th century. Such conflict varies in nature, ranging from territorial disputes over the possession of oil-laden border areas to dynastic or factional struggles among the leaders of oil-rich countries to major inter-state wars over the control of vital oil zones. As oil becomes more scarce and valuable, the frequency and severity of such conflict is likely to increase.
The close connection between oil and conflict derives from two essential features of petroleum:
(1) its vital importance to the economy and military power of nations; and
(2) its irregular geographic distribution.
Military significance:
Petroleum is also a vital factor in the military strength of nations, in that it supplies most of the energy used to power tanks, planes, missiles, ships, armored vehicles, and other instruments of war. Vast amounts of petroleum are consumed in modern combat operations, and so every major power seeks to ensure its access to adequate supplies. (During the 1991 Gulf War, for example, U.S. and allied forces consumed an average of 19 million gallons of oil per day - equivalent to the total daily consumption of Argentina.) Because oil is so vital to the conduct of warfare, its possession has been termed a "national security" matter by the United States and other countries, meaning something that may require the use of military force to protect.
Petroleum exports are also
extremely lucrative
, especially for those producing countries that rely on it as a major source of foreign earnings. According to the Enegry Information Administration of the U.S. Department of Energy (DoE),
oil exports account for approximately 90-95 percent of Saudi Arabia's foreign earnings,
90-95 percent of Nigeria's, and 80 percent of Iran's.
Les mer > LOGG INN FOR Å SE LENKER <,
[TRYKK HER FOR Å BLI MEDLEM AV MILFORUM]
.
---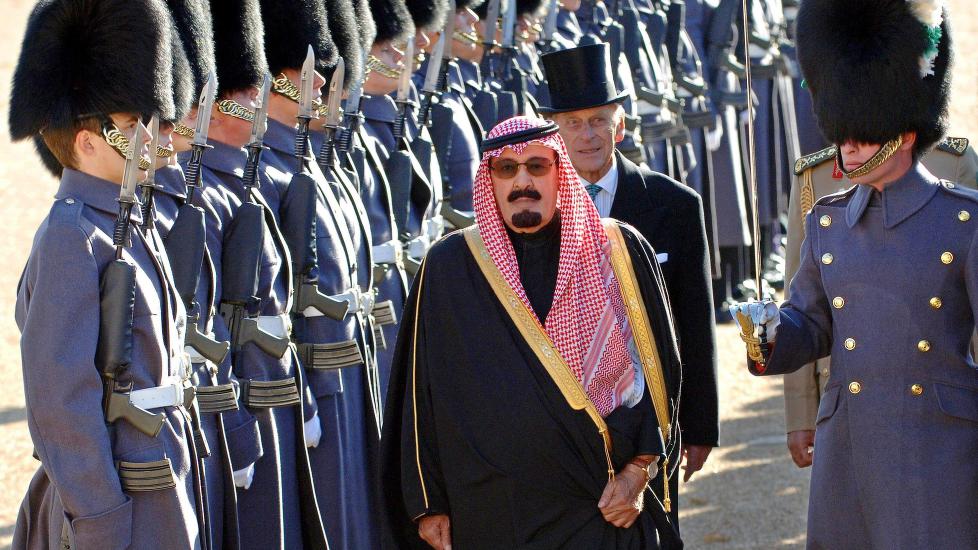 Et tvilsomt vennskap
Er det norske kongehuset forpliktet til å hedre despotiske monarker?
Det saudiske regimet
kan uten blygsel omtales som et skrekkregime. Det var - til tross for mange fine protokollførte ord fra verdenssamfunnet - en av vår tids minst ærefulle og mer blodige despoter som døde da Kong Abdullah nylig gikk bort.
Vår egen kronprins satte seg straks på flyet til Riyadh. Erna Solberg sendte kondolanser. USAs utenriksminister sendte et telegram som har gått en ganskepinlig seiersgang i sosiale medier, hvor kongen ble opphøyd til en ærefull leder med visdom og visjoner (tror Kerry dette selv?). Reaksjonene har ikke latt vente på seg. Mange lurer på om all etiketten er nødvendig eller om det norske kongehuset protokollmessig er forpliktet til å hedre despotiske monarker?
> LOGG INN FOR Å SE LENKER <,
[TRYKK HER FOR Å BLI MEDLEM AV MILFORUM]